INTRO
Being born in 1959 in Amsterdam - The Netherlands, I can remember listening to - or rather "hearing" - music on the radio since the early Sixties. I even remember the day the Beatles came to Amsterdam, 5th June 1964. I saw them on our television cruising the Amsterdam Canals on a boat witnessed by a massive crowd.

ROOTS
Usually one starts really listening to music in the early teens, so my real roots of music are the late Sixties and the Seventies. Some of the bands/artists I grew up with are: Queen, Elvis, The Beatles, Sweet, Middle Of The Road, Slade, Mud, Abba, The Cats, Rubettes, Sparks, 10CC, Al Stewart, David Bowie, Shocking Blue, Earth & Fire, Golden Earring and Kate Bush. (With Kate Bush I was already 19, but I've been following her since her first single)
Strangely enough I did not buy records in my early teens (must have been the money!), but listened to the ones of my brothers and watched TopPop (the dutch equivalent to Top Of The Pops). I did record songs on a taperecorder by hanging a microphone near the TV or copy lp's from friends on tape as well. A friend of mine had bought Sheer Heart Attack in 1974 so that was the first Queen lp I copied. The next year A Night At The Opera was taped. (Yeah, shame on me). In 1976 I got myself a record-player and the very first album I bought was A Day At The Races. In the week after News Of The World was released that friend of mine gave me Queen II as a present, and I decided to buy the back catalogue of Queen the next day (Queen, SHA and ANATO) so then I heard Queen and Queen II for the first time. What a week, three "new" Queen albums in a couple of days! (and from then on I bought the original Queen singles and albums)

GLAM ROCK
In The early Seventies it was highly fashionable for artists to dress up and use make-up in an extraordinary way. There were David Bowie, Gary Glitter, Slade, Sweet and of course Queen. Those were the days.

SWEET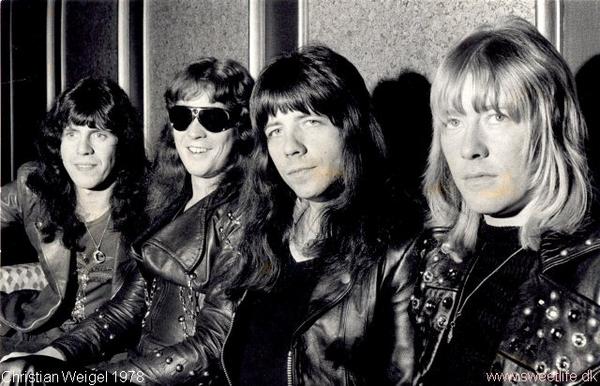 Before Queen, Sweet was one of my favorites, though I only had ever bought 1 compilation cd of them.
Recently I started to search more info about Sweet, collected a number of videoclips, and have just bought the remastered cd's The Very Best Of Sweet and Give Us A Wink. I came across some great Sweet websites, such as http://www.sweetlife.dk/1 and http://www.thesweet.com/. I learned some interesting info about Sweet. I knew Brian Connolly had died in 1997 and I knew their old hits, but that was actually it, so far. Sweet were: (from left to right) Mick Tucker (drums), Steve Priest (bass), Andy Scott (guitar) and Brian Connolly (vocals). Mick died in 2002. One revealing fact was that I had always thought the guys were gay but I now found out that really none of them was gay! Not even the highly camp Steve Priest. (I could say: See what a fool I've been) They just created an image and in my view they did it extremely well! Haha. Reading the info about Sweet I found some facts that reminded me of Queen. Here goes.
SOME LINKS
- in 1992 Queen's Bohemian Rhapsody and Sweet's Ballroom Blitz were used in the movie and OST-cd Wayne's World.

- this renewed the interest for both bands in the US.

- Freddie had renamed himself from Bulsara to Mercury, Brian from his adaptive name McManus to his mother's name Connolly.

- leadsinger Freddie Mercury and leadsinger Brian Connolly died in the Nineties.

- Queen's Brian May and Roger Taylor were in the previous band Smile. Sweet's Brian Connolly and Mick Tucker were in the previous band Wainwright's Gentlemen.

- In 1973 Sweet had their first UK no.1 hit with Block Buster. Released a week before and peaked at no.2 there was Jean Genie by David Bowie. Totally by coincidence the guitar riff in both songs were almost identical. There was quite an uproar about this back then, but there happened to be another song, from The Yardbirds from 1965, called "I'm A Man" that also had that tune. A small comparison with Queen here is, that Queen also played a song called "I'm A Man" or "Mannish Boy", originally written by Bo Diddley in 1955, and later covered by Muddy Waters under the title Mannish Boy. Brian May played in 2003 on the track "Mr. You're A Better Man Than I" on the album Birdland by The Yardbirds. He also played (together with Paul Rodgers) on the Muddy Waters tribute cd.

- On 26-04-1969 Sweet had a gig at London's Imperial College (their first at that venue), Smile had their ever first gig also at Imperial College, on 26-10-1968. (To be complete: Sweet's ever first gig was on 04-03-1968 at Hampstead)

- in 1976 the Sweet album Give Us A Wink is released. The image on the back is a wall with graffiti writing on it. One text says: "Queen are a bunch of winkers"

- Sweet did not play on their first single hit records. They did arrange to play on the B-sides of those singles. From Funny Funny, Co-co, Alexander Graham Bell, Poppa Joe and to Little Willy, Sweet did not play on their own hit records, only Brian Connolly did the singing. On those records Pip Williams played the guitar, Phil Wainman the drums and John Roberts the bass and sometimes Mike Chapman did some backing vocals. Phil Wainman, also producer of Sweet, about Queen (december 1975): You see, Queen beat us to it. Suddenly this little band came along. I went along to see them as a support band - I can't remember which band they were supporting - at the Odeon, Hammersmith. And I went up to Roy Thomas Baker, who was producing them and Roy had been an engineer for me, and I said, ' Roy , that band are phenomenal. I will swap you all the acts I've got for that band.' And he said, 'I can't do that.' And I watched them develop, mature, and they were wonderful. I heard 'Killer Queen' and I rushed back and I played it to John Goodison and I said, 'Listen to how good that band is.' And he went, 'Yeah, they're fantastic.' And then I played it to Sweet, and all Andy could say was, 'Yeah Phil, we're being ripped off.' Queen won the battle. Course they did. I even had a conversation with Brian May in that era, when we were in America . I didn't accuse, it was just very subtly talked about that: 'You did like "Action" as a single, didn't you?' Cos the last part of 'Bohemian Rhapsody' is very much like 'Action'. Take it or leave it, and like it or not, as I said at the time, it seems we opened the door, but when Queen came along, we were left holding the handle a little bit. Remember when a band's been around and gone through changes, it takes time for people to adjust. All through their career, Queen always put in that little tongue-in-cheek, like 'Killer Queen'. They were the first to say all-encompassing: "take us or leave us, whether you like just the heavy or whether you like the tongue-in-cheek pop." Our pop was tongue-in-cheek too, but nobody took it like that. We started, we moved on, by the time Queen were happening, we were out-and-out heavy metal, no doubt about it. Sweet ended up working with Mike Chapman and Nicky Chinn. And they made some real duffers. And Mike Chapman also thought: ooh, maybe I can climb on the next stepping stone and also become a bit serious, and I can be taken seriously if I do it with Sweet. But it didn't work, the chemistry didn't work. I wanted to plan a career for the band, and I wanted to go off in a slightly different direction. I wanted to go slightly bluesy, I actually wanted to fill the gap that Cream had left and go in that direction, with the harmonies and guitars - it all sort of fit into place. Cream were gone and they could have gone more in that direction: slightly funkier, a little bit laid-back, it could have been really good. In fact 'Love Is Like Oxygen' in a way was scratching the surface, but I wanted them to become more basic. Because Queen, as far as I could see, had really gone as far as you can go with the vocals and backing and everything was like a big, big production number, and I thought what I'll do is I won't do that with Sweet; I'll go the complete opposite and have basic, real basic, gritty, down-to-earth sort of blues. Sort of, but pop. They'd gone through pop, then they had powerpop, and then they had rock. And the rock they were coming up with was being topped out of all belief by Queen. And I thought: let's let them have that market. Let's stay out of that, let's look at this market, let's look at a basic thing.

- Steve Priest, Sweet bass-player wrote in his autobiography "Are You Ready, Steve?": On 24th March 1976 Sweet played the Santa Monica Civic Autitorium in the USA. During the show a huge six-foot dick came swinging down from the ceiling spraying the audience with confetti. It was a realistic looking affair with all the attributes of the male appendage with coloured veins and a subtle - 1000 watt bulb inside.The last I heard of this phallus was that it was in a wharehouse in Santa Monice. That was a century ago. It was only used once at Santa Monica Civic Auditorium in 1976.
- In a Queen documentary, Freddie Mercury's assistant Peter Freestone said that once Freddie had the idea of using a gigantic dick to swing from the ceiling over the heads of the audience. The idea was never discussed further though.

- During the Sweet gig in Santa Monica they played Allright Now, together with Ritchie Blackmore formerly from Deep Purple. Brian May and Roger Taylor played Allright Now on several occasions with Paul Rodgers from Free and Bad Company.

- Ritchie Blackmore had formed a new group in 1976, Rainbow. Drummer was Cozy Powell and they toured the USA in 1976. In the Nineties Cozy Powell toured with The Brian May Band and recorded tracks with Brian for his 1998 Another World album.

- Steve Priest in an interview (april 2002). Ricardo Pugialli from Brazil:"In 1979 Sweet released the album Cut Above The Rest. (Without Brian Connelly who had left the band). Sweet was being accused of copying Queen on that album. Do you agree with these critics?" Steve:"How could we copy Queen if we came first."

- After the death of Brian Connolly, caused by a stroke causing a liver failure, many artists paid tribute to Sweet's original lead singer. Also the members of Queen. Brian May wrote:"Very sad to hear of Brian Connolly's passing. Although labeled GLAM at the time, The Sweet's productions were some of the very best of the period, and definitely stand the test of time. R.I.P."

- The 1976 Sweet album Give Us A Wink was recorded at Munich Studios, co-produced by Mack. Some years later Queen also recorded at Munich Studios, with co-producer Mack.

- Mick Tucker, the very talented drummer of Sweet, got his inspiration e.g. from Sandy Nelson. Sandy Nelson was a prominent session drummer in the 50's and 60's and managed to put some instrumental hits of his own in the top ten. His services as a drummer were in demand. He played drums for Phil Spector on the Teddy Bears' number one hit To Know Him, Is To Love Him in 1958. (Brian May played guitar on a re-recording of this song with Anita Dobson on vocals), and the following year Sandy sessioned for Gene Vincent on Crazy Times before striking out on his own. In 1961 Sandy released his second [and last] top ten hit, Let There Be Drums. During the 2005 Queen & Paul Rodgers tour, Roger Taylor played a drumsolo that was called Let There Be GVincent on Crazy Times before striking out on his own. In 1961 Sandy released his second [and last] top ten hit, Let There Be Drums. During the 2005 Queen & Paul Rodgers tour, Roger Taylor played a drumsolo that was called Let There Be Gene or Let There Be Drums. This was a cover of the Sandy Nelson track.