Virtually everyone who came into contact with Freddie Mercury in the late 60s tells the same story. Take Chris Smith, a fellow student of Freddie's at Ealing College, for instance: "Right from the start, before he'd even joined a band, Freddie would say, 'I'm going to be a pop star, you know'. I remember walking into the West Kensington pub in Elsham Road one day and Freddie was there with his head in his hands. 'What's the matter with you?', I asked. 'I'm not going to be a star', he replied. I said, 'You've got to be a star, you've told everyone. You can't let them down now. Come on.' And then he stood up, put his arms in the air and said, 'I'm not going to be a star. I'm going to be a legend!'."

Chris Smith, who also teamed up for a short while with Brian May and Roger Taylor in Smile, has the distinction of being the first person to collaborate with Freddie Bulsara - as he was then known - on his early attempts at songwriting. Another of Freddie's early musical partners was Mike Bersin, guitarist with Ibex, a progressive blues band from Merseyside, whom Freddie joined in 1969. "Freddie knew where he wanted to go," confirms Mike. "That's why he was an international star. It wasn't an accident. It happened because that's what he wanted to be from the moment I first met him. He was a man with a goal and a drive."

AMATEUR
Even with Freddie as their frontman, though, Ibex were little more than an amateur outfit, managing to secure just three gigs in the summer of 1969. Freddie then changed their name to Wreckage, and another handful of inauspicious live shows followed. By the end of the year, it was all over, leaving Freddie to team up with another heavy blues band, the Surrey-based Sour Milk Sea. He set about moulding them to his ideal, too, but that engagement lasted only a matter of weeks. In April 1970, Freddie achieved the ambition which had been driving him for more than a year, when he joined Brian May and Roger Taylor in Smile. He changed thier name, too - to Queen.

In 1974, when Queen had their first hit with "Seven Seas Of Rhye"

Freddie Mercury was nearly 28. By then he'd been singing, on and off, for sixteen years, more than half his life. The story starts a continent away on the East African spice island of Zanzibar, where Freddie was born Farookh Bulsara to Persian parents in September 1946. Zanzibar was then in its final throes as a British colony, and Freddie's father was a High Court cashier for the British government. In 1954, Bomi Bulsara's job took the family to India, and Farookh was sent to St. Peter's English boarding school in the hilltop retreat of Panchgani, about fifty miles out of Bombay.

"He talked about his background as if was repressive and enclosed," recounted another friend from Ealing College, Gillian Green, to Mark Hodkinson in "Queen - The Early Years". "You could tell he didn't like talking about it. He said he was so glad they had come to England."

Writing in the Mercury tribute book, 'This Is The Real Life', however, Farookh Bulsara's classmate Derrick Branche - who spent five years with him at St. Peter's in India - recalled that, "It was the best place I can think of for a kid to go to school. I can think of nothing ugly about the place or time we had there".

In 1958, five friends at St. Peter's - a 12-year old Farookh, who'd by now acquired the nickname 'Freddie', Branche, Bruce Murray, Farang Irani and the delightfully-named Victory Rana - formed the school's rock'n'roll band, the Hectics.

"It was as the piano player in the Hectics," wrote Branche, "that Freddie first performed as a musician, cranking out a mean boogie woogie even at that tender age. We would play at school concerts, at the annual fete, and at other such times when the girls from the neighbouring schools would come along and scream, just like they'd obviously heard that girls the world were beginning to do when faced with current idols such as Cliff Richard or Elvis Presley, Little Richard and Fats Domino, these last two being Freddie's and my particular favourites." Freddie was shy in the Hectics, and was content to let Bruce Murray bask in the 'lime-light' as frontman. The band wasn't allowed to perform outside the school grounds, but little else is known about them.

"Freddie confined his childhood to the very depths of a back closet," claims the co-author of "This Is The Real Life", David Evans, who it met first Mercury in 1974, while working for Queen's management company, John Reid Enterprises. "He never really talked about his life other than being in England. Ever.. To anyone. I always found it much more romantic than he did, but he'd say, 'Don't be silly, dear!" I'd ask him, 'What was it like in Zanzibar? It must have been so exciting,' and he'd say, "Dirty place! Filthy place, dear." There's not much you can say after that, is there?


EMBRACE

"He really wasn't into acknowledging that part of his life at all. Strangely, even when he bumped into Derrick Branche again in London, he wasn't particularly overjoyed. He wasn't averse to it, but he didn't suddenly embrace Derrick as a long-lost friend. They didn't take up their friendship at all." Freddie left St. Peter's in 1962, and in 1964, when Zanzibar won independence from Britain and civil unrest threatened, the Bulsara family moved to England, arriving in Feltham, Middlesex. Freddie, then seventeen, studied art and fashion 'A' level at Isleworth Polytechnic before moving on to Ealing College in the spring 1966.


He commuted from his home in Feltham most days, or crashed on the floor at a flat in Kensington rented by Chris Smith.

"Freddie was always interested in music," remembers Paul Humberstone, a flatmate of Smith's and another student at Ealing. "The Beatles and Jimi Hendrix were his favourites, he was always playing air guitar and doing his Hendrix impersonations. He used to do a sort of showbiz stance. We thought he was joking around to amuse us. We used to call him Freddie Baby, and he used to say, 'Don't you worry, I'll be big one of these days. I'll be a real star'. No one believed him, because no one had heard him sing at that point." Freddie's scene soon revolved around Paul and Chris' flat in Addison Gardens, London W14, and by the beginning of 1969, around another flat in nearby Sinclair Road, which was occupied by, among others. Smile's Roger Taylor. Freddie was introduced to Smile by the group's singer, Tim Staffell, who also studied at Ealing. "It wasn't that I actively brought Freddie in," claims Tim, "it was just that you naturally fall in with people of a similar cultural leaning."

"Everyone around Smile used to gravitate towards Freddie, even though he wasn't in the band," adds Chris Smith, who - despite Slaffell's recollections in RC 197 - had actually been a founder member of Smile (see letters page this month). "Freddie was like the fifth member. He'd say to me, 'I wish I was in your group', and 'If I was in this band, I wouldn't do it that way'."

Inspired by Smile, Freddie began to experiment with music for the first time since leaving India. He initially began to practice with Tim, a friend called Nigel Foster, who was "a straight-laced advertising student", and with Chris Smith.

"We used to have jam sessions in the college," recounts Chris. "The first time I heard Freddie sing I was amazed. He had a huge voice. Although his piano style was very affected, very Mozart, he had a great touch. From a piano player's point of view, his approach was unique."

Chris and Freddie also attempted to write songs together. "I was doing a music degree at the same time," reveals Chris, "and I had the keys to the music department. Freddie used to get me to open it up, where we'd hammer away at the piano, trying to write. We were hopeless. He'd say, 'How come Brian and Tim can write songs like 'Step On Me' and 'Earth'?'. We were in awe of the fact that they could do this. It was quite magical. Only the Beatles could really write proper tunes.

"Freddie and I eventually got to write little bits of songs which we linked together like 'A Day In The Life'
[a song of The Beatles from Sgt. Pepper's Lonely Hearts Club Band

]. This makes sense when you consider 'Bohemian Rhapsody'. You know: 'Woke up, fell out of bed'
, and 'I see a little silhouetto of a man'. It was an interesting way getting from one piece in a different key signature to another. But I don't think we actually finished anything. There was a cowboy-type song called 'The Real Life', which was actually reminiscent of the first part of 'Bohemian Rhapsody'. That was the chorus at that time, although it could have been one of Brian's songs. I remember that distinctly. Freddie certainly taught me a lot at those sessions. He had a great, natural sense of melody. I picked that up straight away. For me that was the most interesting aspect of what he was doing."

Freddie left Ealing College in June 1969, with a diploma in graphic art and design, and a few commissions to draw ladies' corsets for adverts in local newspapers. He moved into Roger Taylor's flat in Sinclair Road, and that summer opened a stall with Roger at Kensington Market, initially selling artwork by himself and fellow Ealing students, and later Vicloriana or whatever clothes, new and secondhand, he could lay his hands on.

"He was quite flamboyant then," says Chris Smith, who recalls Freddie's taste beginning to embrace the top chic of satin, velvet and fur. "I remember buying a pair of red trousers in Carnaby Street and turning up at college thinking they were really sharp. But Freddie was there in a pair of crimson, crushed velvet ones like Jimi Hendrix wore - a bit of a dude. He was sitting there reading the 'Melody Maker' and he saw me, glanced down, and didn't say a word."

Freddie lived for music, and in August that year he seized upon the opportunity he'd been waiting for - to sing in a band. Too impatient to form one of his own, he did the next best thing and found himself a ready-made outfit. His quarry was Ibex, a Merseyside-based trio comprising two eighteen-year-olds, Mike Bersin (guitar and vocals) and John 'Tupp' Taylor (bass and vocals), and "a mad milk-man" drummer by the name of Mick 'Miffer' Smith. Bersin and Taylor had played together since 1966 in a band called Colour, earning a local reputation with a series of gigs at such noted venues as Manchester's Twisted Wheel Club and the Cavern in Liverpool. They'd even acted as pick-up band for cult British blues singer, Jo-Ann Kelly.

"Under the influence of Cream," reveals Mike Bersin, "we realised that you only needed three musicians: one at the low end, one for the middle and high, and one for the rhythm. You'd then solo endlessly until everybody flicked off to the bar."

"We were progressive," adds John 'Tupp' Taylor. "We wore hairy fur coats and grew our hair. We played a few improvised instnunentals which gathered form and almost became songs, but we never got around to completing any lyrics or melodies."

APPLE

In May 1969, Ibex played their debut in the small Merseyside town of Penketh, and prior to meeting Freddie, had packed off a demo tape to the Beatles' Apple label, which resulted in little more than 'Miffer' Smith becoming enough of a celebrity to warrant a write-up in the local 'Widnes Evening News'. Featuring the headline, 'Beatles Could See Local Drummer Hitting Big Time", the report ended with the Ibex philosophy: "Blues isn't music... it's a way of life."


Mike Bersin: "We persuaded Mick to pack up his job as a milkman and to go down to London to make it in the music business. We had a Comma van and a load of phone numbers. The morning after we arrived we all piled into a phone box. Our roadie, Ken Testi, dialed this number. We were all crowded around the ear-piece and we heard him say, 'Hello, is Chris Ellis there, please?', and this very frosty-voiced woman on the other end said, 'Yes, this is Chrysalis'. That was the level of our sophistication."

"We met the members of Smile at a pub called the Kensington," recalls John 'Tupp' Taylor. "We saw them play a couple of times and they were really good. They had a great vocal-harmony thing going. Tim Staffell, their bass player, was a really good singer, and Freddie was a mate of theirs. We'd all sit around and have amazing vocal sessions singing Bee Gees, Beach Boys and Beatles songs. We could do great harmonies because there was three of them in Smile, myself, Mike Bersin, who'd chip in, and Freddie, of course."

At this point, it was common knowledge among the Smile crowd that Freddie was desperate to get into Brian and Roger's band. Perhaps joining Ibex would be a way in. "Freddie hadn't quite persuaded Smile to take him on as a vocalist," confirms Mike Bersin. "They thought they were doing OK as they were. So he said, 'You know what you guys need, and that's a vocalist.' " He was right, too, as John Taylor recalls: "I wasn't the world's greatest singer by any stretch of the imagination." And, as Ken Testi reveals: "Mike had never been particularly confident about his singing, but had been pushed into it."

Freddie first met Ibex on 13th August 1969. Such was his enthusiasm, that just ten days later, he'd learned the band's set, brought in a few new songs, and had travelled up to Bolton, Lancashire, for a gig with them - his debut public performance. The date was 23rd August, and the occasion was one of Bolton's regular afternoon 'Bluesology' sessions, held at the town's Octogon Theatre. For Ibex and friends it was the event of the summer. No fewer than fifteen bodies, including Freddie, Ken Testi, the band's other roadie Geoff Higgins, Paul Humberstone, assorted friends and girlfriends, plus Ibex's instruments, were squeezed into a transit van borrowed from Richard Thompson, a mate of Freddie's who'd previously drummed in "1984" with Brian May and Tim Staffell.

The gig, booked by Ken Testi before Ibex had left for London, provided a forum for amateur and semi-professional outfits to play, "on the understanding dial no fees are available though nominal expenses can be claimed from the door takings". Peter Bardens' band, Village, preceded Ibex on stage, and the gig took place 'in the round', with the seating placed around the circular stage.

The following day, Ibex appeared in the first 'Bluesology pop-in', an open-air event on the bandstand in Bolton's Queen's Park. On the bill were local band Back, another called Birth, Spyrogyra, Gum Boot Smith, the White Myth, Stuart Bitterworth, Phil Renwick, and of course, Ibex. In a report published the day before, the 'Bolton Evening News' wrote, "The last named act make a journey from London specially for the concert. The climax of the whole affair will be a 'super group', in which all the performers will play together. If the weather is fine the noise should be terrific."

PHOTOGRAPH

Remarkably, for such a relatively inauspicious event, Freddie's first-ever public performance was extremely well-documented. There were at least three photographers present, and the proceedings were covered in Bolton's 'Evening News' for the second time on 25th August. This even featured an uncredited photograph of Freddie, the caption to which ran: "One of the performers gets into his stride". If Freddie wanted to be a star, it seems as if he was going the right way about it.


"Freddie really loved going up to Bolton to play with Ibex," remembers Paul Humberstone. "He was really on form. The band was very basic, but good. They did very reasonable cover versions, and were very loud. That was his very first outing with the band, but Fred struck his pose. Remember him doing "Bohemian Rhapsody"? He was like that, only without the eye make-up."

"Freddie was shy offstage," recalls Ken Testi, "but he knew how to front a show. It was his way of expressing that side of his personality. Everything he did on stage later in Queen, he was doing with Ibex at his first gig: marching from one end of the stage to another, from left to right and back again. Stomping about. He brought dynamics, freshness and presentation to the band that had been completely lacking previously."

Mike Bersin agrees: "As a three-piece, we'd thought it was sufficient to play fairly basic music and not worry too much about stagecraft. Freddie was much better at putting on a show and entertaining people. That was pretty radical for us. I thought that's what the liquid light show was for, you know. We make the music and the audience can watch the pretty-coloured bubbles behind us. But Freddie was different. He was always a star. People used to pull his leg about it when he had no money, one pair of trousers, one T-shirt and one pair of boots. He'd look after them all really well and people would say, 'Here comes Freddie, the star'."

"I don't think Freddie developed," reckons John 'Tupp' Taylor. "The first day he stood in front of that crowd, he had it all going. It seemed as if he'd been practising for years to be ready. We'd only ever sang together as mates before that. We'd never done anything by way of trying it out. He was just going to be in the band and everybody was happy with that. Once Freddie was in, we changed in loads of different directions. We began to play 'Jailhouse Rock', for a start! I think that was the first song we ever did with him on stage." Back in London, a revitalised Ibex began to make plans. "Freddie and the band very quickly became inseparable," remembers Ken Testi. "They were spending large parts of their time together, working out a new set which included different covers and some original stuff. "

Mike Bersin: "Freddie was the most musical of all of us. He was trained on the piano, and he could write on the black notes. He said, 'We're never going to get anywhere playing all this three-chord blues crap, we'll have to write some songs'. A couple of things came out of it, but they've all vanished now. I can't imagine that they would have been very satisfactory anyway - largely because he was working with me, and my understanding of music was incredibly rudimentary. We used to argue about whether we should put in key changes. I'd say, 'What do you want a key change for?' And he'd say that it made the song more interesting, it gave it a lift. I'd think, 'Why has he got this thing about gratuitous key changes?' The idea of changing the key of a song just because it made it more interesting to listen to was really alien to me." That said, Geoff Higgins remembers at least one decent Bulsara-Bersin tune: "They did a great song called 'Lover'. The lyrics used to go, 'Lover, you never believe me', and Fred later turned it into 'Liar, you never believe me' (which appeared on Queen's debut album

). It was almost the same tune. But not quite. In fact it was similar to 'Communication Breakdown'

, they used to rip off Led Zeppelin a lot." Before they knew it however, the summer was over and it was September. Mike Bersin returned to Liverpool to begin his pre-diploma year at the local art college, at what is now John Moore's University. With nothing better to celebrate than the new term, the pre-dip freshers - new students - threw a party, and who better to provide the entertainment than Mike's band, Ibex? Subsequently, Ibex's third and final gig took place on 9th September 1969 at the Sink Club in Liverpool, a former soul-blues hangout in the basement of the Rumbling Tum - a place Ken Testi remembers as a "pretty dodgy, post-beatnik cafe". The club was situated on Hardman Street, which runs parallel to Mount Street, the site of Paul McCartney's new LIPA building, and was a small venue. "If you got thirty people in there it would have been a squash," recalls Ken.
TIME-CAPSULE
While Freddie's trip to Bolton with Ibex was photographed, unbeknown to Queen historians these past 27 years - and indeed to friends and members of the band - Ibex's appearance at the Sink was recorded. Hazy memories arid a cindered attic have obscured this amateur-quality time-capsule of Freddie for nearly three decades. What's more, the recording pre-dates the earliest known live tape of Queen (the Marquee, 20th December, 1972) by more than three years.

Ibex's roadie, Geoff Higgins, is the man behind the mono tape recorder and the rediscovery of a lifetime. He picks up the Story: "I had a Grundig TK14 reel-to-reel machine. We used to record almost everything, and practically all of it is now gone. That night I just thought I'd take it along and tape the band. There was no other reason for it. You don't expect to end up in the history of one of the biggest acts in the world. We didn't hold those tapes as being precious. Although, I've kept everything of Mike's since!"

He continues: "I had two beer crates as a table; with my tape on top of them and a little old-fashioned mono, crystal microphone hanging down by its own wire. That's why the tape is such chronic quality. Imagine begin the audience and looking at the stage. I would have been by a pillar on the right of, and slightly in front of, the stage. That's why the bass is so loud, because Tupp was on the righthand side. Mike was on the left, Miffer in the middle, and Fred out on the floor in front of the stage, because there simply wasn't enough room for a singer as well."

The tape runs for thirty-five minutes, and demonstrates Ibex's love of Cream and Jimi Hendrix, as well as Freddie's favourite of the day, Led Zeppelin. It opens half-way through the band's reading of Cream's "I'm So Glad"

, complete with Tupp Taylor's dextrous bass solo, before diving into a full- throttle reading of Zeppelin's "Communication Breakdown"

, with Freddie's towering falsetto homage to Robert Plant earning the band a smattering of applause. Freddie's vocal extemporising on the next track, the Beatles' "Rain"

, vindicates stories of a untried singer with the confidence to launch himself with his own style. Cream's apocalyptic "We're Going Wrong" follows, with 'Miffer' Smith's Ginger Baker-like drumming rising and falling beneath Freddie's undulating vocals. Guitarist Mike Bersin shines on "Rock Me Baby"

, the blues-rock standard popularised by Jimi Hendrix, although the version here owes more to the one found on the Jeff Beck Group's "Truth"

; at one point, Freddie echoes Bersin's wah-wah with his own "wow wow" ad-libs.

The tape pauses here, and restarts towards the end of a strut through Hendrix's "Stone Free"

. Aim extended stab at Freddie's perennial favourite, "Jailhouse Rock"

, leads into an accomplished power-blues blast through Cream's "Crossroads"

. Freddie introduces the next number, one of his compositions: "Now we'd like lo do one of our own songs, called 'Vagabond Outcast'." It's reminiscent of that Queen rarity, "Hangman", and although it's under-reliearsed, it's similar in style to Ibex's better-known covers, and earns the band another ripple of applause. Mike and John re-tune their guitars before "We're Going Home", a variation on the Ten Years After R&B work-out "I'm Going Home"

, during which Freddie's voice can be heard, half talking, half ad-libbing, beneath the low murmur of'Tupp' Taylor's bass solo. Freddie then reemerges, exploding with an alarming rock shriek as the song draws to a close. It's a fascinating, if slightly ragged performance, but a crucial early document of one rock's greatest stars, or to put it Freddie's way, legends - another national treasure to be venerated one day in Britain's mythical rock'n'roll archive. "Everybody was incredibly competent in that band," agrees Geoff Higgins. "There were no slackers. They weren't rubbish by any means. I know this is a poor recording, but those guys were good."

Geoff has a further revelation, which calls to mind Paul McCartney's presence in the audience at the first-ever recording of John Lennon with the Quarry Men back in 1957. "Smile were in Liverpool that night," he says, "playing another club, possibly the Green Door. And because we were at the Sink, they came down to see us." The rest of the story is almost too good to be true. Brimming with encouragement for their flamboyant friend, Brian May and Roger Taylor wasted no time in joining Freddie on stage (or as near to it as they could get). They probably bashed out a few Smile numbers (to which Freddie undoubtedly knew all the words), and this occasion marked the first time the three of them played together in front of an audience. "We virtually had Queen in there," remarks Ken Testi, "although of course we didn't know it then." But here's the sting: although Geoff Higgins' tape recorder was still only yards away at the time, the tape ran out before the three musicians had the chance to play a note together.

Sometime between 9th September and the end of October 1969, probably while Freddie was staying with Geoff Higgins in Liverpool, Ibex underwent a mini upheaval - at Freddie's instigation. "I recall him canvassing the idea of calling the band Wreckage, but nobody was very enthusiastic," reveals Mike Bersin. "Then he phoned me one night and said, 'The others don't mind. How do you feel?' I said, 'If they agree, then fine'. So we went along to the next rehearsal and all the gear had been sprayed 'Wreckage'. When I spoke to the others about it, Freddie had phoned them all up and had the same conversation."
'MIFFER'
The name-change went hand-in-hand with the departure of drummer Mick 'Miffer' Smith, as Freddie documented in a handwritten letter to Celine Daley, an Irish girl who moved in the Ibex circle of friends. Dated 26th October, 1969, the letter bears the address 40, Ferry Road, Barnes, SW13 - another flat rented that summer by members of Ibex, Smile and various associates.

"Miffer's not with us any more," wrote Freddie, "'cause the bastard just up and left one morning saying he was going to be a milkman back in Widnes. (He meant it too.)" He goes on to boast that Roger and he go "policing and ultrablagging just about everywhere," which led to the pair "being termed as a couple of queens". Interestingly, this word doesn't seem to imply any of its more modern connotations. There was another term for that, as Ibex's former drummer was well aware. "Miffer, the sod," wrote Freddie, "went and told everybody down here that I had seriously turned into a fully fledged queer."

"You can see he was exploring the concept there, can't you?", interjects Mike Bersin, "to see how people felt about it and how comfortable he was with it. He was always very camp, but when I knew him, he was living with Mary Austin, and I certainly knew at least one other girlfriend he knew at the time. So he was kind of straight then. But if he hadn't yet come out of the closet, he was certainly looking through lhe keyhole."

Crucially, as far as Queen's pre-history is concerned, Freddie pinpoints the date when Ibex became Wreckage: "Our first booking as Wreckage is on Friday. 31st October at Ealing College," he wrote. He also names Richard Thompson, the former drummer in Brian May's "1984", as Miffer's replacement.
BEATLES
"I'd known Freddie for years," Richard recalls. "I first met him in 1966. I used to go round his house to listen to Beatles records. Then we'd go and watch Smile play, before he joined Ibex. I knew all of Ibex's songs, as I'd watched them perform, so there was no point in auditioning anybody else."

With Wreckage's first (and Freddie's fourth) concert appearance just five days away, the band set about rehearsing a new set. "Mike came down today (from Liverpool)," wrote Freddie to Celine, "for a five-hour live marathon practice... Richard collapsed half-way through and I've really gone and this Friday, 'cause I'm going to out-ponce everybody in sight. (It shall be easy.)".

Freddie ended the letter with this hitherto unpublished information: "We've written a few new numbers: 1) 'Green'. 2) 'Without You', 3) 'Blag-A-Blues', 4) 'Cancer On My Mind' (originally called 'Priestess'.)"

"Freddie always had very unusual titles at that stage,"- recalls Mike Bersin. "I can't remember what 'Green' was about. It might be the one with the intro which went, E, A, D, G, D, A, E, A, D, G, D, A, in guitar chords." As neither Ibex nor Wreckage went within striking distance of a recording studio, none of these songs was ever recorded officially. Miraculously, however, one of them has survived - and it's the one which stuck in Mike Bersin's mind. "Green".

Richard Thompson is the man responsible for its preservation. "The song was taped at the flat in Barnes, on a little Fidelity two-track recorder I'd had for about ten years," he reveals. "It was at the rehearsal for the Ealing College gig, after Mike had come down from Liverpool. I only recorded it so that I could learn the song. It is straightforward 4/4 in the middle, but we needed to learn the beginning and end of it. It had a weird beginning. Most of Freddie's songs were like that. I can't remember the rest of them. but they were Hendrix and blues copies."

"Green" is a melodic, medium-paced ballad, whose tone recalls that obscure Queen delight, Mad The Swine (recorded in 1971, not issued until 1991), and ironically, some of the more reflective material he wrote towards the end of his life. "There's a sudden change in me...," sings Freddie. "I believe my time has come. Any moment I'll be drifting to the sun... Green, turning green. Rapidly changing through the bassline, turning green." ("That sounds like the state of Freddie's lyrics at the time!" laughs Mike Bersin.)

This excellent-quality recording survives on a 5" spool, and runs for just over ten minutes. As Freddie revealed in his letter, the session was a extended one. In addition to his tired voice and Richard Thompson's exhaustion. Wreckage had the other occupants of the Ferry Road flat to consider. So while Freddie sang in a hushed, compelling manner, Mike Bersin can be heard strumming along on an unplugged electric guitar. Only John 'Tupp' Taylor's bass is amplified, while Richard Thompson keeps time by lapping on a practice pad. Wreckage make several attempts at "Green", before switching to another song, obviously a Freddie-composed number, which is difficult to identify (but could be "Blag-A-Blues") from its lyrics because the band were interrupted before they reached the chorus.

"Whoever we were sharing the flat with came in and complained that it was one o'clock in the morning," remembers Richard Thompson. "So Freddie stopped singing." And there ended the last and certainly most important pre-Queen recording. One well-heeled collector will have the chance to hear the tape for himself when it comes up for auction at Christie's on 6th June.
MYSTERY
Apart from pre-Queen titles like the previously-documented 'Lover' and the newly-discovered 'Vagabond Outcast', plus the three originals disclosed in Freddie's letter to Celine Daley; there are a further four contenders for the title of the mystery track. That's the number of unknown Freddie songs stencilled and typed onto a piece of paper by Richard Thompson in October 1969. Richard has a recollection that one of these, "Universal Theme", was a Bulsara-Bersin guitar instrumental, which leaves three songs in the running - "Boogie", "One More Train" and "FEWA", the last of which Sour Milk Sea's Chris Chesney recalls was an acronym for "Feelings Ended, Worn Away". Unless any other tapes miraculously surface, Freddie's words and melodies to such songs can only be imagined.

Despite the arduous rehearsal, no one seems to recall Wreckage's debut at Ealing College, but Richard Thompson once again comes up trumps with a typewritten setlist for the gig. In addition to playing all ten of Freddie's originals mentioned above, Wreckage created an intriguing new live concoction by tagging the Beatles' "Rain" into "1983" - not a reference to Brian May's former band, but the dreamy psychedelic soundscape from Freddie's favourite LP, Jimi Hendrix's Electric Ladyland"

. They ended the set with "Let Me Love You"

, no doubt inspired, once again, by the version on Jeff Beck's "Truth"

.

Only an impression of Wreckage in general remains: "It was a far better group than Ibex, because of Fred," recalls Geoff Higgins. "Mike's guitar playing and Tupp's bass playing were always excellent, but Fred made it gel. It was a proper progressive rock band, which is what they'd always wanted it to be."

Better than Ibex they may have been, but the brief hislory of Wreckage isn't nearly as well documented. Only a handful of gigs were booked under that Iron Butterfly at Imperial College - possibly at the 5th November 1969 gig listed in Freddie's letter to Celine Daley. "We also played somewhere in Richmond, at a nigby club," recalls John Taylor. "A friend of Brian May's arranged it, and Brian came along. He thought our image was 'savage'. He thought we were really good. 'Oh, savage!' he said."

What was probably the last Wreckage appearance took place at the 1969 Christmas dance at the Wade Deacon Grammar School For Girls in Widnes, apparently booked with the help of John Taylor's younger sister, who was a pupil at the school. (Members of Ibex had attended the corresponding institution for boys.) This date has gone down in history as the night when Freddie discovered what was to become his trademark. Fed up with the microphone stand he'd been using, he removed part of it from its base and leapt around the stage in his familiar fashion, gripping what amounted to a redundant three-foot pole attached to his mic.

"There are lots of legends about that," reckons Geoff Higgins. "It happened all the time, because we had a really crap microphone stand. It was one of those big, heavy three-legged ones that most jazz bands used. Fred liked to move around, and because it was too heavy, he used to unscrew the middle and take out the pole. He did it all the time. It was purely a practical thing."

Despite flashes of true potential, the end of the 1960s also marked the end of Wreckage. Gigs were few and far between, and while John Taylor, Richard Thompson and Freddie remained in London, Mike Bersin was committed to his college course in Liverpool. Inevitably, the band petered out.

"Before I went down to London," says Mike, "I told my parents what I wanted to do. They were completely horrified and had 'visions of me disappearing into the fag-end of swinging London in a haze of drink, drugs, sex and rock'n'roll, and never coming back again. They made me promise that if I got enough 'A' levels to go to art college, then I would do.. Eventually the letter came, and I had to tell the guys that a promise was a promise. I didn't have any regrets. It was fun, but I didn't perceive it as going anywhere. Freddie was serious, but we weren't. When we started to fall to pieces, he moved on to something else."

That "something else" was the Leatherhead-based quartet. Sour Milk Sea, for whom Freddie auditioned in early 1970 - probably February - after seeing a "Vocalist Wanted" advert in the 'Melody Maker'. "We were a blues-based four-piece, playing predominantly our own material, really influenced by Traffic," explains the band's Chris Chesney (then known as Chris Dummett). "I was the lead vocalist, trying to sing like Stevie Winwood, but really didn't have the right pipes for it. Plus, I wanted to move over to guitar."

The roots of Sour Milk Sea lay in a outfit called Tomato City, formed by public schoolboys Chesney and Jeremy 'Rubber' Gallop, who played rhythm guitar. In 1968, with Paul Milne on bass and original drummer Boris Williams (who, in the 1980s turned up in the Cure!), the band "played arts labs, as they were called then," remembers Chris. "People would come along and take their clothes off and scream poetry". Inspired by the George Harrison song of that name recorded by Jackie Lomax, the band became Sour Milk Sea in late '68. Williams was soon replaced by another public schoolboy, drummer Robert Tyrell, who had previously played behind Mike Rutherford and Anthony Phillips at Charterhouse, in a pre-Genesis band called the Anon.

Sour Milk Sea's debut performance took place at the Guildford City Hall, opening for up-and-coming acts like Taste, Blodwyn Pig, Deep Purple and Junior's Eyes. Although the band turned professional in June 1969, and had its own sizeable following, drawing audiences of around 100 people, they felt they needed a little something extra. Freddie Bulsara was just the ticket.
CHARISMA
Rob Tyrell recalls seeing him for the first time: "Freddie auditioned with us in a youth club in crypt of a church in Dorking. We were all blown away. He was very confident. I don't think it was any great surprise to him when we offered him the job." Jeremy Gallop agrees: "He had an immense amount of charisma, which was why we chose him. Although, we were actually spoilt for choice that day. Normally at auditions, you'd get four or five guys who were rubbish, but we had two other strong contenders. One was a black guy who had the voice of God, but he didn't have the looks of Fred, and the other person was Bridget St. John."

Chris Chesney: "I remember Freddie being really energetic and moving around a lot at the audition, coming up and flashing the mic at me during guitar solos. He was so impressive. There was an immediate vibe. He had a great vocal range. He sang falsetto; nobody else had the bottle to do that. He said, 'Do your own songs and I'll make up my own words'. It was clever, and very good.

"When Freddie joined," he continues, "we were on a roll. We were in the habit of playing two or three gigs a week and we continued to do so. I think we played one down at the Temple in Lower Wardour Street with Freddie, the Oxford gig, and a few others."

The Oxford gig was in the ballroom at the Randolph Hotel, one of the grandest in the city. "It was like a society-type of bash, debs in frocks and all that," recalls Chris. "I remember our sound wasn't great." Jeremy Gallop adds: "Freddie definitely managed to get what people were there in the palm of his hand, just by sheer aggression and his good looks. He was very posey, very camp, and quite vain. I remember him coming into my house and looking in the mirror, poking his long hair about. He said, 'I look good today. Don't you think, Rubber?' I thought, 'Fuck off!' I was only eighteen at the time, and didn't think it was very funny. Now it's hilarious."

The only other gig featuring Freddie which the members of Sour Milk Sea are certain about was a benefit for the homeless charity, Shelter, staged at the Highfield Parish Hall in Headington, Oxford, on 20th March 1970 - just weeks before Freddie teamed up with Brian May and Roger Taylor in a new group. "That was probably the last gig we played with him," remarks Chris Chesney.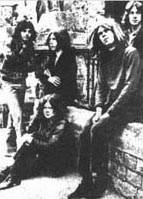 Surprisingly enough for such a low-key gig, just like Ibex's Bolton show, Sour Milk Sea's appearance at Headington also made the local paper, as revealed in Mark Hodkinson's 'Queen - The Early Years'. This time it was the 'Oxford Mail', and incredibly, the paper also included a photograph of the group complete with Freddie - the only shot known to exist of him with Sour Milk Sea. Typically, Freddie is the only one looking at the camera.

The article included an interview with the band on account of Chris Chesney's parents being minor local celebrities (his father was a philosophy don, his mother an official for the Oxford Committee for Racial Integration). It also remarked that vocalist Freddie Bulsara had only arrived "a couple of weeks ago", and quoted from his song, "Lover". More importantly, as Chris told the paper at the time: "I don't feel we are like any other group. Our approach is based on our relationships with one another."

Those relationships held much promise, but were fraught with danger, as Chris was soon discovered. "I was slaying with 'Rubber' at the time," he recounts. "Then Freddie asked me to stay with him in Barnes. So I did, and we started songwriting together, getting into each other's heads. His chords were kind of weird. They broke all the rules, F-sharp minor to F back to A. That was totally new for me. I thought it was all very current and that we could blend our two approaches together". He continues: "We did two or three of Freddie's songs. He had some material from the Ibex days, including 'Lover', 'Blag' and 'FEWA'. He was good at lyrics and we wrote a couple of numbers, some big, operatic pieces. Operatic in the sense that they broke down into solo guitar parts, then built up again vocally. I can't for the life of me remember what they were called. He also introduced weird covers like 'Jailhouse Rock'

. We'd have never considered playing Elvis, or Little Richard's 'Lucille'

. Then he had his little rock'n'roll medley, which pushed the band into a showbiz direction, which I liked. He also had a lot of stagecraft going. I had a good relationship with Freddie and he liked the way I moved on stage. We were like Bowie and Ronson, where we related physically to each other on stage."
SEXUALITY
No one in Ibex, Wreckage nor Sour Milk Sea had suspected that Freddie was gay. Indeed, as Mike Bersin has pointed out, Freddie had a girlfriend, Mary Austin, at the time. "Ambiguous sexuality was par for the course then," recalls Chris Chesney. "You didn't question it. Anybody who did was totally unhip." Chris and Freddie's friendship was platonic, but close: "He wanted to style me, give me some clothes to wear, and the relationship between us got quite strong. 'Rubber' soon realised there was nothing in it for him."

Ultimately, Freddie's creativity and drive for control within the band had a catastrophic effect on Sour Milk Sea. Gallop and Chesney had been friends since school, and had worked together for more than two years. But within weeks of Freddie's arrival, they were at each other's throats.

Chris Chesney: "When Freddie joined, the band lost its focus. The cohesion between the four of us was significantly weakened. Musically, we were more pastoral than what Freddie was into, he was coming from a different place. He was heavily into Led Zeppelin. I thought the musical frictions were very exciting. We became so un-blues based, whereas before we were stuck on that R&B template."

"Freddie very quickly wanted to change us," adds Jeremy Gallop. "I can remember him trying to make us learn 'Lover'. I can still recall how it went. We were all thinking - me especially - 'Fucking hell, this isn't the way we want to go!' If only we couid relive life again! But Freddie was a very sweet man. He was a very good arbitrator. Chris and I used to argue like hell. I used to have fights with the bass player - and get beaten up - and Fred was always the one who'd cool down the situation with diplomacy.

"Onstage," Jeremy continues, "Freddie became a different personality - he was as electric as he was later in his life. Otherwise he was quite calm. I'll always remember him being strangely quiet and very well-mannered. Extremely well-mannered, in fact. My mum liked him."

Jeremy continues: "Rather shamefully, I ended the band. I could see that Chris was sidling up to Freddie's way of thinking, so I aft. It was more pop, and at that time, pop was rather uncool. Sour Milk Sea was always a bit of a fiery band. Temperamental. And it was drawing to a close anyway, actually. There was quite a lot of hostility there at dial time - not between Freddie and myself- but between Chris and me. We'd really had enough of each other. Fortunately, we're great mates again now, 25 years on."
SCHEMER
"When Sour Milk Sea broke up it was a terrible shock," admits Chris. "It was fairly acrimonious. Rubber had basically bankrolled the band by buying all the equipment, so he took back his Gibson SG Standard that I'd been playing and my Marshall stack, and I was pretty fucked. I was just eighteen. Our drummer, Rob Tyrell, went off with Rubber in another band, and I went off to work in Huntley & Palmer's bakery in Reading for months on end to get the money to buy my own guitar." And, as Chris revealed to Mark Hodkinson, "I was planning to form another band with Freddie, but not having a guitar and not having much money put the kibosh on the idea".

"We liked Freddie," admits Rob Tyrell. "He was fun. But he was quite - a schemer in a way. He had other things cooking. I could feel it in my bones he wasn't really interested in us. He knew he was good. He kind of used us as a stepping stone."

Freddie had been through three different groups in less than seven months. What next? "He finally persauded Brian and Roger to form that band," recalls Mike Bersin. Having known and observed each other for a while, Freddie, Brian and Roger were more compatible than Freddie had been with relative strangers like Chris Chesney and Jeremy Gallop. All the new band needed now was a name.

The previous summer, members of Ibex, Mike Bersin in particular, had began to refer to Freddie, and indeed to Roger Taylor, as "queens" or "old queens" - as Freddie's letter to Celine Daley shows. And Freddie was obviously far from averse to the term. Brian and Roger put forward the Grand Dance (from 'Out Of The Silent Planet' trilogy) as a suggestion for their new outfit. "But they decided on Queen as being more direct," adds Mike Bersin. It had, of course, been Freddie's choice. By this time, Freddie had changed his own name, too. Bulsara was too exotic, too Zanzibar. The explanation of his replacement comes from Chris Chesney. "Freddie was a Virgo," he reveals, "and Mercury was his ruling planet.

"Later on," concludes Chris, "when they auditioned John Deacon, Freddie made some overtures for me to come and play with Queen. I hadn't played for a few months, but they wanted me to jam a bit with Roger and John. It was really awkward, because Brian's guitar was unplayable if you're used to playing a proper, commercial guitar. It wasn't what I wanted to do. And anyway, by then, I felt they had the chemistry in Queen just right."

Andy Davis

Credits: thanks to Chris Smith, Paul Humberstone, Renos Lavithis, Stephen Maycock at Sotheby's, Giles Moon at Christie's, the Bolton Evening News, Mark Hodkinson, Laura Jackson, Jamie Davis, Jim Jenkins, Tim Staffell, Helen McConnell and David Evans.

Special thanks to Ibex / Wreckage: Mike Bersin, John Taylor, Richard Thompson, Geoff Higgins, and Ken Testi;

and to Sour Milk Sea: Chris Chesney, Jeremy Gallop, and Rob Tyrell.
Credits: thanks to Chris Smith, Paul Humberstone, Renos Lavithis, Stephen Maycock at Sotheby's, Giles Moon at Christie's, the Bolton Evening News, Mark Hodkinson, Laura Jackson, Jamie Davis, Jim Jenkins, Tim Staffell, Helen McConnell and David Evans.

Special thanks to Ibex / Wreckage: Mike Bersin, John Taylor, Richard Thompson, Geoff Higgins, and Ken Testi;

and to Sour Milk Sea: Chris Chesney, Jeremy Gallop, and Rob Tyrell.